Wednesday marked the first day back to school for our kids. Kylie of course being in 2nd grade feels like a seasoned little school goer already, but Tyler had his very first day! You saw how the night before went in my post below so I'll tell you the the morning of the 1st day went!

It started with waking up at about 6:15 and getting the kids up by 6:30. Kylie is always hard to get from her bed so I have to raise my voice as loud as possible without waking everyone else up..haha! Tyler rolled right out of bed with that excited anticipated look on his face. I gave them both every choice under the sun for their breakfast and Tyler chose Lucky Charms which was really no surprise to me, Kylie went with waffles!

They finished the breakfast and went off to make their beds, brush their teeth, wash up, get dressed and get their hair all ready. Tyler wanted to spike his hair, but it's a tad too short for this yet, however he managed, yes he managed, didn't really want my help, to get the front flipped up a bit at least! Kylie is difficult with her hair, never knowing what she wants and always changing her mind! However, she finally decided and they were ready to go!

To my surprise Tyler wanted to ride the bus to school on his first day and he got on with no hesitation! They were excited though because before they got on, Papa got to stop by and wish them good luck on their first day. I of course met them at school to get some pictures, mainly of Tyler being his first day of school. He seemed to be right at home!

After school was out I did go pick them up, just in case they had a bad first day. I think I was more nervous then anyone! However they both had a great first day, loved their classmates, their teachers, and everything!

I got misty eyed watching them get on the bus, and once they were off I actually full on cried. I will probably do that every year! I was sad thinking that Kylie is in the 2nd grade already, and sad thinking that Tyler was starting school now. I got even more sad thinking ahead to when my other two start school and Kylie and Tyler are that MUCH older! My how time flies! I just want to cherish it now and sometimes wish I could freeze it!

Here they are eating their breakfast...


Ready to leave


Tyler's 1st Day Outfit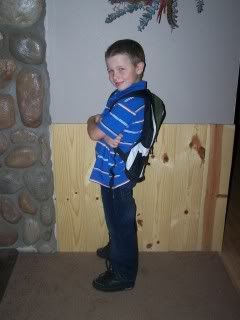 Kylie's...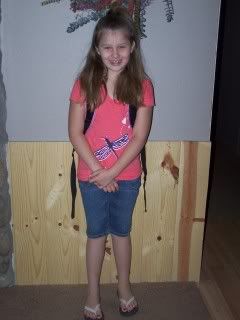 Off to the bus


Tyler's First Bus Ride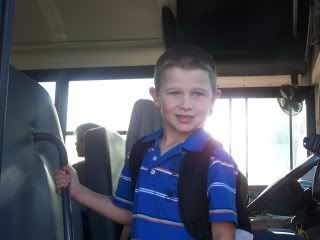 Tyler in his class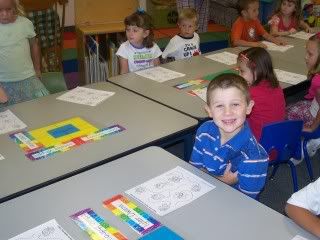 and I popped in for a quick picture of Miss Kylie too